Same day dispatch on orders before 2pm
Reward points with every purchase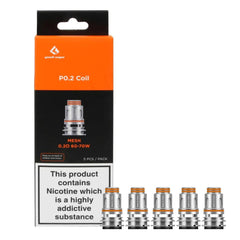 Geek Vape
P Series Coils | 5 pack
The GeekVape P coils are specially designed for the GeekVape Aegis Boost Pro vape kit, offering sub-ohm vaping enthusiasts a choice between a 0.2 ohm and a 0.4 ohm coil. These coils are engineered to produce substantial vapor clouds, making them ideal for cloud-chasing and intense flavor experiences. To get the best performance from these coils, it's recommended to pair them with 70% VG and high VG e-liquids, ensuring a satisfying sub-ohm vaping adventure.
---
Features:
GeekVape Sub Ohm Coils
Aegis Boost Pro Kit
Supports High Wattages
Compatible With High VG Eliquid
UK Delivery
Free for orders over £25
Standard Shipping Royal Mail 48£2.99
2-4 Working Days
Estimated delivery:
Express Shipping DPD Next Day£4.99
Next Working Day
Estimated delivery:
Premium Shipping DPD Saturday£9.99
Saturday Delivery when ordered on Friday
Estimated delivery:
Order over £20 £2.49
DPD Express Delivery
Next Working Day
Estimated delivery:
*All rates are based on sub-total after discount codes applied.
DPD Next Day Delivery only applies if the order is placed before 2pm Thursday – all orders placed after 2pm on Friday will be processed the following Monday (excl. Bank Holidays) unless the DPD Saturday premium service is selected.
DPD Next working Day doesn't include Channel Islands, Isle of Wight, Northern Ireland & Scottish Highlands. Orders to these countries default to a 2 day service and may encounter extra costs. All orders placed Mon-Fri before 2pm are dispatched the same day. All orders after 2pm on Friday will be dispatched the following Monday.
Click & Collect
FREE Click & Collect from our store
Gatwick Store location only
Unit 1 Whittle Way, Crawley, RH10 9RW
Orders ready within 1 hour.
International Delivery, Signed
Europe – £9.99
World Zone 1 – £14.99
World Zone 2 – £17.99
Read more on our shipping & returns page
Earn an instant £5 off reward
Create an account with Vape Simple using the form below, and you'll unlock a £5 discount code which can be used straight away on your first order.
Seen it cheaper somewhere else?
Let us match it!
We constantly check our prices to make sure we offer the best possible value. However, due to the number of items we sell, it's impossible to check all prices on a daily basis.
So, if you've seen a cheaper price on another website, send us a request on the link below.
Request price match
Free UK delivery - on orders over £25
Free Plusnic+ - with every shortfill
Reward points - with every purchase
Same-day dispatch - orders before 2pm
Sign Up & Save 25%
Sign up to our newsletter and receive 25% off your first order.
You can unsubscribe at any time.