Mix & Match – Buy any 3 for £40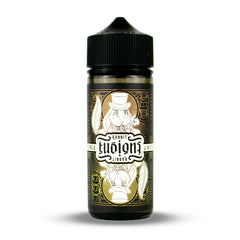 Jack Rabbit
Double Jack | 100ml
Double Jack Shortfill E-Liquid by Jack Rabbit Fusion 50ml is a fusion of both Banoffee Pie and Custard Doughnut, layered with Cheesecake, Toffee, Caramel and tropical Banana on the inhale, complemented by a rich and creamy Custard filled Doughnut.

Jack Rabbit Fusion 100ml Shortfill E-Liquid range consist of delicious fusions of best selling flavours from Jack Rabbit, Rachael Rabbit and Cyber Rabbit, creating new unique blends that have all been formulated in high 70% VG for Sub-Ohm vaping.
For more incredible flavours in this range you can find them here
UK Delivery
Free for orders over £25
Standard Shipping Royal Mail 48£2.99
2-4 Working Days
Estimated delivery:
Express Shipping DPD Next Day£4.99
Next Working Day
Estimated delivery:
Premium Shipping DPD Saturday£9.99
Saturday Delivery when ordered on Friday
Estimated delivery:
Order over £20 £2.49
DPD Express Delivery
Next Working Day
Estimated delivery:
*All rates are based on sub-total after discount codes applied.
DPD Next Day Delivery only applies if the order is placed before 2pm Thursday – all orders placed after 2pm on Friday will be processed the following Monday (excl. Bank Holidays) unless the DPD Saturday premium service is selected.
DPD Next working Day doesn't include Channel Islands, Isle of Wight, Northern Ireland & Scottish Highlands. Orders to these countries default to a 2 day service and may encounter extra costs. All orders placed Mon-Fri before 2pm are dispatched the same day. All orders after 2pm on Friday will be dispatched the following Monday.
Click & Collect
FREE Click & Collect from our store
Gatwick Store location only
Unit 1 Whittle Way, Crawley, RH10 9RW
Orders ready within 1 hour.
International Delivery, Signed
Europe – £9.99
World Zone 1 – £14.99
World Zone 2 – £17.99
Read more on our shipping & returns page
About our new
Mix & Match

deals

At Vape Simple, we're now offering huge savings across our extensive range of e-liquids.

Mix & Match any products from the same deal and you'll see a discount applied at checkout. It's a great way to try new flavours and experiment with different brands at bargain prices!

For a limited time only you can stack as many Mix & Match deals as you like, with amazing offers on over 100 products throughout the store.

Create a deal with our Double Jack | 100ml by checking out the full collection.

Buy any 3 for £40
Seen it cheaper somewhere else?
Let us match it!
We constantly check our prices to make sure we offer the best possible value. However, due to the number of items we sell, it's impossible to check all prices on a daily basis.
So, if you've seen a cheaper price on another website, send us a request on the link below.
Request price match
Free UK delivery - on orders over £25
Free Plusnic+ - with every shortfill
Reward points - with every purchase
Same-day dispatch - orders before 2pm