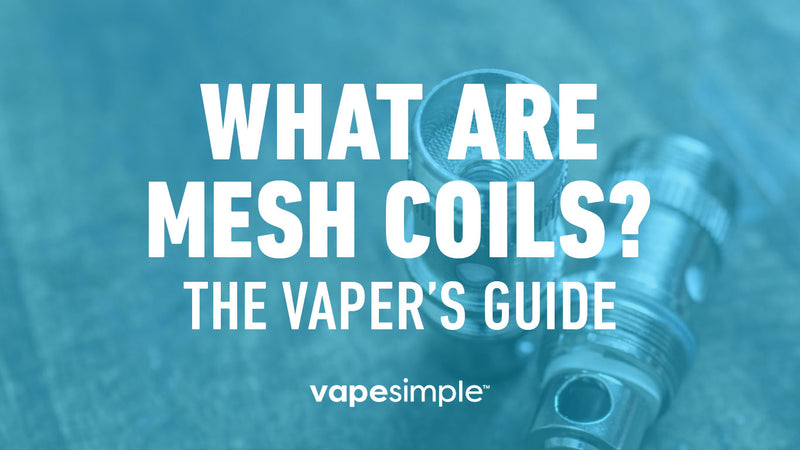 Mesh coils were designed with the goal of maximising the surface area of the coil without increasing the size. So, what is a mesh coil? And what are mesh coils made of?
To put it simply, they're essentially thin, flat strips of metal with lots of holes punched in them. These holes mean that the surface area is maximised, but the volume of the overall coil remains small. Mesh coils are usually made from either stainless steel or kanthal, which is the trademark name for an alloy of iron-chromium-aluminium. 
Are Mesh Coils Better?
So, we understand that mesh coils work by maximising surface area, but does this result in a better vaping experience? And do mesh coils use more juice? 
When you get fluid in the coil of your vape device, it heats up and turns into vapour. A larger surface area means that more e-liquid can come into contact with the coil at one time and, as a result, more of the e-liquid is heated up at once which therefore creates more vapour. Plus, it can also create more intense flavour production. 
Mesh coils are therefore best suited for cloud-chasers – if you aren't interested in increased vapour production, then mesh coils may not be for you.  
Sometimes cloud-chasers may use dual coils or triple coils. This means that there are two or three coils instead of one which, of course, increases the overall surface area. However, this is a less common practice since the introduction of mesh coils. Mesh coils avoid the need for a large, bulky collection of coils – the smaller volume is far more efficient and desirable. 
Mesh Coils: Pros and Cons
Pros of Mesh Coils
The most obvious advantage of mesh coils is that they create more vapour and flavour. Many vapers claim that they are the best coils for flavour production. 
Secondly, mesh coils can last much longer than regular vape coils. This is because the heating of the e-liquid is spread out over a larger surface area, meaning the coil does not get burnt out in one focused area. 
In addition, you require less power from your e-cigarette device in order to reach optimum performance. When using a regular coil, you would need much more power in order to experience the delivery that you will get from a mesh coil. 
Lastly, mesh coils create a far more consistent vape experience. There is a more even distribution of heat on the coil, meaning the vapour and flavour production is more even and balanced.  
Cons of Mesh Coils
The only real disadvantage of mesh coils is that they will use up more e-liquid than regular vaping coils. Since more e-juice is heated up and converted into vapour, more vape juice is used. 
However, if you are experiencing more vapour production, you may choose to use your e-cigarette less often (which would probably be the wise thing to do). In this case, you will be using up the same amount of vape liquid overall.
The Best Vape Tanks Compatible with Mesh Coils 
Are you thinking about trying out mesh coils as a way to enhance your vaping experience? From mesh coil tanks to mesh coil strips, check out our list of recommendations below.
FREEMAX FIRELUKE 3 Tank
Compatible with the Freemax Fireluke 3 Coils
Compatible with the Crown 5 Coils
HORIZONTECH Falcon 2 Tank 
Compatible Falcon 2 Sector Mesh Coils 
Find Mesh Coils at Vape Simple
Here at Vape Simple, we supply an extensive range of vape coils from a number of leading brands – from Aspire, to Freemax and Vaporesso. Our collection of coils is also compatible with all of the vape kits we sell, meaning it's never been easier to make the switch from traditional smoking to vaping. For more guidance on choosing coils that will fit your vape device, contact our experts today.