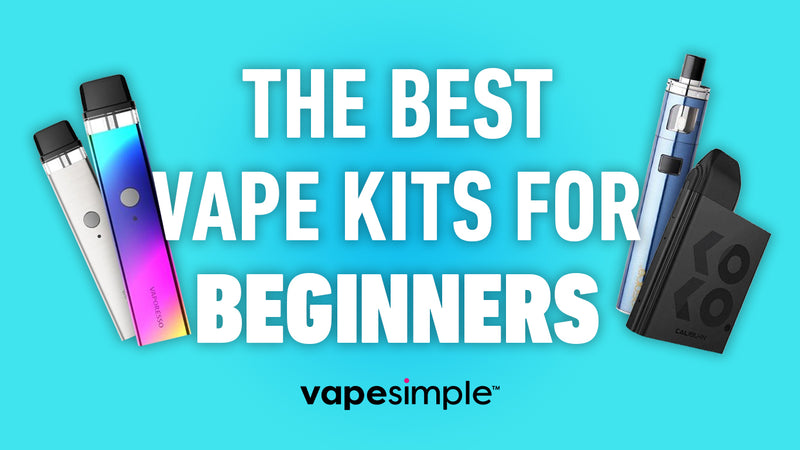 The Best Vape Kits for Beginners
As a beginner to vaping, you want to make sure you're getting a vape kit well-suited to your needs, experience, and preferences. This is why the Vape Simple team has put together this concise list of some of the best starter kits on the market - we want to make vaping simple! (Get it?) 
These kits are perfect for those who are looking to quit smoking and make the switch to a healthier lifestyle. You may wish to pair your vape kit with a salt nicotine e-liquid - this will allow you to vape a higher nicotine level for greater satisfaction. 
Salt-based nicotine juice allows for a smoother, softer throat hit, even at high strengths up to nic 36. This is extremely powerful when compared to traditional freebase nicotine e-liquids which tend to only reach around 12mg of nic. 
In addition, these kits are excellent for 50/50 e-liquid as they are less-powerful, more basic devices. You may find that more advanced vapers use super clunky and powerful mods. However, 50/50 PG/VG liquid provides a good balance of flavour and vapour production without requiring that higher level of power from your device. 
In this article, we will discuss the best vape kits for beginners, starting with pod systems and then moving on to more traditional vape pens. 
Pod's To Buy 
When looking to buy pods, the number one vape pods FAQ we hear is: what is the point of a pod system? Is it really any better than a normal vape pen?
In short, vape pods are designed to make the whole vaping experience much easier and more hassle-free. With a pod, you can remove the top section of the device (this section is called the pod) and simply replace it or refill it (depending on the device you choose). 
This makes for a much easier and mess-free refilling process. Alternatively, you may choose to carry multiple pods each containing different e-liquid flavours. This means you can easily switch up the flavour you are vaping without the hassle of cleaning your tank in-between!
The Aspire Breeze NXT is a super compact and easy-to-use pod system. It features a new coil system, meaning you can change the coil even when the pod tank is full. This prevents a whole ton of mess and spillage that vapers have been despising for years! Plus, the hefty 5.4ml tank capacity means you won't have to worry about refilling very often. 
The sleek and small pen style of the Vaporesso XROS makes it great for vaping on-the-go. Plus, the resilient stainless steel construction means maximum durability for your device. The tank is smaller than the Aspire Breeze NXT with just 2ml capacity, however, the superb ease of refilling this tank means its size isn't a downfall. 
The XROS uses mesh coils which means you'll experience enhanced vapour production, plus crisp and long-lasting flavour. If you combine this kit with the best VG vapour for clouds - namely a high VG e-liquid - then your vape cloud production will be off the scale! 
You may have heard of more advanced vapers using custom coils in the UK, but with the XROS mesh coils, you won't need the hassle of handmade. These guys do the trick perfectly! 
This bestseller is a super-sleek and super-compact kit. It focuses primarily on flavour over vapour production, meaning it stays lowkey but tastes great! Whether you love the taste of tobacco flavour e-liquids, menthol e-liquids, fresh vapour liquid like kiwi or berries, or sweet flavoured e-liquid like vanilla e-liquid and custard e-liquid, this kit is sure to deliver. 
The KOKO is perfect for those who want something small but effective that they can use on-the-go. Plus, it comes with a necklace chain meaning you have the option to carry it around with ultimate ease. 
Pods Price List
You can shop all of these brilliant devices from the Vape Simple pod shop! Check out the pricing below for easy comparison:
Pens To Buy
As an alternative to a pod system, you may wish to opt for a classic vape pen. These tend to be similar in power, size, and features, but they simply use a regular tank rather than a pod. 
The Freemax Twister Kit is powerful with a fast firing speed. This means it produces a super satisfying draw with excellent flavour production. It features a 5ml tank capacity meaning you won't need to refill regularly, plus it comes in loads of awesome colours! 
Similarly to the Vaporesso XROS, this device uses mesh coils. So, as we said above, there's no need for handmade coils in the UK!
This kit is another bestseller, popular for its compact all-in-one design. It has a smaller 2ml tank capacity, but again, refilling is a breeze. 
The flavour impact from this device is brilliant, so whether you want a superb vanilla custard flavour, a powerful surge of icy menthol, or wicked berries delivery, this kit has you covered! We have also found that many customers use this device for CBD e-liquids, so it makes a great CBD starter kit in the UK. 
The Aspire PockeX is easy to maintain, easy to operate, has a long-lasting battery life, and is leak-resistant. This means your vape will last all day before it needs charging, and you can replace the coils without making a mess - a revolutionary feat for all vapers! 
Lastly, this kit comes in loads of awesome colours. So whether you want a simple black kit, a green vapour pen, or a funky rainbow design, the Aspire PockeX is for you. 
Bonus tip: To make your vape experience even easier, why not get a vape coil storage block? These blocks help you to store and organise your coils, mouthpieces, e-liquid boxes, and any other vape accessories you may have. Nifty! 
Pens Price List
You can shop both of these brilliant vape pens from the Vape Simple vapor company. Check out the pricing below for easy comparison: