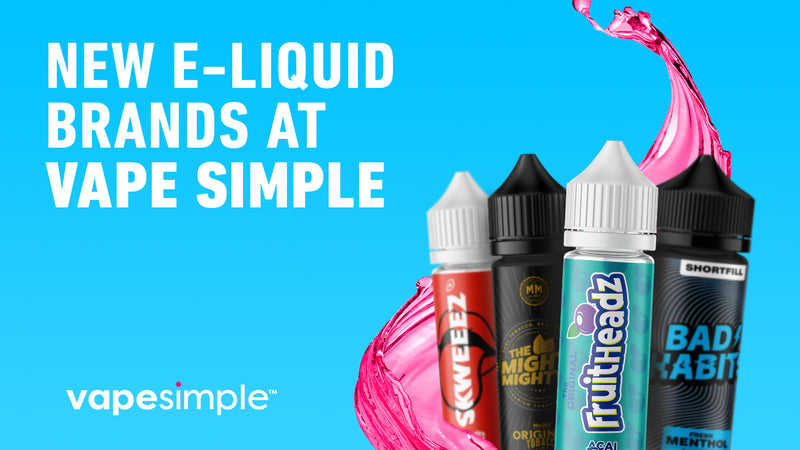 NEW E-Liquid Brands: The Best Flavours to Try
We've had a busy few months at Vape Simple hustling up lots of exciting new vape flavours! In this article, we are going to be showcasing our 4 brand new e-liquid brands and each of their delicious flavours. 
These are all high VG juice brands meaning they are best for sub-ohm devices and cloud-chasers! Plus, these e-liquids all come as 0mg nicotine shortfills, meaning you can add your own choice of nicotine shots. 
The Bad Habits collection offers a range of deliciously bold e-liquids, with flavours spanning from sweet fruits to tasty desserts, to icy menthols, and even naughty cocktails! There's something for everyone to enjoy in this collection. Add a nicotine booster shot to this high VG e-liquid to achieve your desired nicotine strength. 
If you're a lover of sweet vape flavours, then Fruit Candy is made for you! This juice offers a rainbow of fruity flavours with sweet and sour candy bursts. 
Nougat Dessert is a delicious honey nougat flavour perfect for all of you dessert-vape lovers! This sweet and creamy classic will drive you nuts, especially if you tend to like vanilla or custard flavour e-liquid.
This refreshing, summer vape flavour is a delicious classic cocktail with bursts of strawberry slush. If you're a lover of sweet vapes with a touch of something special, then Strawberry Daiquiri is for you. 
Fresh Menthol is an icy, cooling menthol flavour with an invigorating punch of sweet arctic eucalyptus. This menthol vape liquid isn't just your classic menthol - it's crisp coolness is sure to blow your head off! 
If you like sweet e-liquid, but you want to try something a little bit different, then Banana Energy Drink could be just what you need. This sweet and distinctive banana flavour is finished off with an invigorating soda edge for that extra something. 
Our second new brand is Skweeez - a range of e-liquids specialising in flavours bursting with fruity fun! If you like to vape sweet flavours, then take our word for it: this brand is filled with some of the best sweet e-liquid in the UK! You'll find all of your favourite fruit flavours in this playful collection, with added blends of fizz, ice, candy, and more. Add a nicotine shot e-liquid to this high VG vape juice to create your desired nicotine strength. 
This first flavour gives you bursts of sweet, fruity goodness with a fizzy soda flare. Think fruity candy mixed with sparkling soda, and that's how you get Fizzy Fruit! 
This sweet and creamy banana flavour will take you back to your childhood, with a taste that's reminiscent of banana foams - some of our favourite mix & match sweets!
Red Fruits just might be the best sweet vape juice from the Skweeez collection! This juice is a super fruity mixed berry flavour which explodes with boldness in your mouth. 
For an ice menthol e-liquid with a sweet, fruity base, Icy Fruits is the one to choose. This vape is a juicy mixed fruit flavour on the inhale, followed by a refreshing icy blast on the exhale. 
And finally, we have Lemon & Limes! This vape features a smooth blend of sweet, sour, and citrus notes. The classic essence of lemon with a sweet kick of lime makes for an exceptionally refreshing vape. 
This brand is certainly a mighty one! This collection features a range of premium tobacco vape liquid, each with their own unique flare. If you're a lover of tobacco flavour e-liquid, then you'll definitely want to try every bottle from this range. With some of the best tobacco flavour e-liquid on the market, you'll be sure to find something you like. Add your choice of nicotine shot vape juice to this high VG liquid to reach your desired nicotine strength.
This classic tobacco flavour vape is an absolute must-try for those who love life's simple pleasures! This sublime blend boasts just the right balance of smoky undertones with crisp tobacco leaf.
This flavour does exactly what it says in the name! This blend is an absolute must-try if you love the essence of a menthol vape juice. With just the right balance of smoky, crisp tobacco leaf and a cool, refreshing hit of menthol, you won't be able to get enough. 
For a slightly more intense tobacco flavoured vape juice, choose Supreme Tobacco. This e-liquid is expertly crafted and blended to perfection for a classic, crisp tobacco vape with smooth and buttery undertones and a slight hint of caramel. 
We LOVE this one… it's a rich and creamy take on the classic tobacco taste for a sweet, smooth, and creamy vape. If you like sweet e-liquid or vanilla flavour e-liquid, but you also love that classic tobacco flavour, then this is the one for you. The biscuit undertones meld perfectly with rich, dark tobacco for the perfect all-day vape. 
This vape is perfect for this time of year (Christmas!). If you love classic tobacco flavours, but you want to mix it up, then why not try Cinnamon Tobacco? This vape adds a delicious twist of spicy cinnamon for that extra va-va-voom! 
This next new brand is filled with sweet flavoured e-liquid and exciting fruity flavours bursting with goodness! If you love sweet vape flavours, then you're bound to find something in this collection that you simply can't get enough of. With this high VG e-liquid, you can add your own choice of nicotine shots to the vape to reach your desired strength. 
Need something to keep your sweet tooth in check without the sugar and calories? Mango Candy is the answer! This wonderfully fruity candy flavour is the perfect mixture of sweet, ripe mango, followed by an explosion of sweet candy. 
This sweet and citrus e-liquid is bursting with raw freshness throughout. If you love a refreshing all-day vape with sweet and fruity tones, then you'll find this exceptionally more-ish! 
This e-liquid flavour really is bursting at the seams with fruity goodness! Experience a refreshing undertone of sweet watermelon in this mixed fruity blend - the perfect all-day vape for any fruit-vape lover. 
Acai Berry brings something a little new and special to the table! The purple acai berry is sourced from the tropics for a refreshing, juicy flavour. If you're a fan of sweet blueberries then this is a must-try!
This first fruity vape offers a sweet, ripe, black grape flavour throughout the inhale and exhale. The wonderfully fruity body of the liquid is complimented by a cool, refreshing aftertaste. 
We'd like to give a special thanks to all of our amazing social media supporters for the images used in this blog!