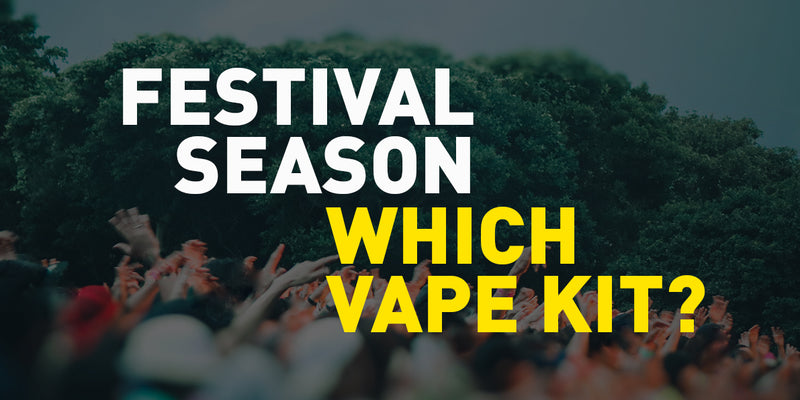 Festival Vaping Tips! 
It's festival season and it's super important to plan ahead - this is the same for your vape devices! Whether it's a local day festival or a massive Reading and Leeds 5 day style event you should take the time to think about the best parts to bring to ensure your vaping needs are met!
RULES
Check the guidelines for the festival - are there designated vaping areas? Normally, outdoors festivals tend to allow vaping throughout with little restriction, but it is always worth checking so you don't have any problems. If it is the case of designated areas, make sure to make a note of them, you don't want to miss anything because you get lost finding the closest vape zone!
A common occurrence as festivals the prohibition of glass bottles, this is normally for health and safety and can be taken very seriously by festival officials. You'll need to make sure your e-liquids are in alternative containers if not deemed compliant, again this will be unique to the festival but is normally clearly stated on their website or social media.
PACKING
When going to a festival, especially if you're staying over, you're going to want to keep excess items to a minimum and as easy as possible to transport. Here it could be a good idea to invest in a case for your vape device and accessories - this could also be to keep it safe and avoid any unwanted spillages in your bags!
Think about how much liquid you're going to need as you're unlikely to find anywhere to restock if you run out, also consider if you may be vaping more than usual, for example if the festival is outside, you tend to reach for the vape more as you are free to do so.
It's worth considering how you're going to keep your device charged - extra batteries or USB charging? Most festivals will have charging facilities or at least somewhere you can purchase a power bank so this will should influence your decision.
OUR RECOMMENDATIONS
The Aspire Breeze 2 devices are great for festivals, being compact makes the device super portable and will take up minimal space in your luggage. The updated design of these devices has been commended for being durable which is perfect for a festival environment. In addition to this, the device isn't incredibly expensive and easily replaceable which will take the pressure off if accidents happen.
Another pod system we would recommend is the Uwell Caliburn! This sleek and compact system is perfect for taking around with you. In addition to this, the cartridges are refillable but also easy to replace if damaged.
We've just released some brand new flavours for our Solt range that will be perfect for festival season. Not only can they help you avoid the cigarettes when temptation is high they also have a flavour for everyone. Whether it's the fruity melon or refreshing black ice they are definitely the perfect festival treat. 
....
Got something to say to us? Email retail@svclabs.co - we would love to hear your thoughts, opinions or any additional info you want to share!
Follow us on social to keep up to date!  @vapesimpleuk