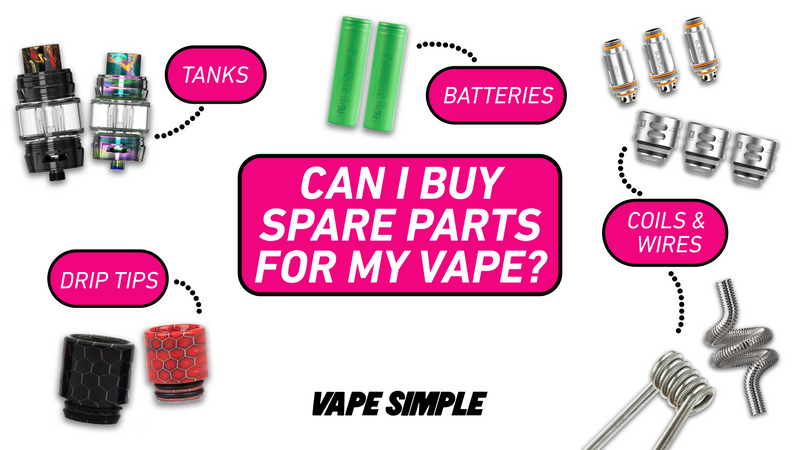 Can I Buy Spare Parts For My Vape?
What spare parts can you buy for your vape?
In order to make the most of your e-cigarette, you may want to invest in spare parts to modify and improve your device. The perfect vape experience requires a variety of components and accessories. In this article, we will be covering what these parts are, when you might want to use them, and where you can find them. 
COILS
Most vapers will find they need to replace their coil every 10 to 14 days, or each week. This can vary depending on how much you use your vape. When you begin to notice a change in taste (the vape will begin to taste burnt), this indicates it is time to change your coil.
You can find out which coils are compatible with your device by looking online at the product information for your e-cigarette. 
Most vape retailers will sell a variety of coils. You can view our coil range here. 
BUILDING YOUR OWN COILS
Many vapers like to rebuild their own coils in order to modify their vaping experience. This can allow you to enhance the flavour, and increase vapour cloud production. 
In order to build your own coils, you will need wire, cotton, a toolkit, and an ohm reader (ideally). Ensure that you do your research or speak to someone who knows how to build coils before you go ahead. 
You can find cotton here, and an expert toolkit here. 
BATTERIES & CABLES
Many vape pens or pod systems will have in-built batteries, and you will simply need to recharge your device with the cable included in the box. It is recommended that you do not use a cable that hasn't been designed for your device, so if you do need a replacement, ensure that you are buying the same cable. You should be able to find out what type of charging cable you need online in your device's product specifications. 
Mod systems will often use batteries that are sold separately, and can be removed and replaced. Usually, they can be recharged using a special battery charger. It's important to mention batteries should always be handled with care, always use a case to transport them, and always read the battery safety guide provided in the box. When you buy your device, you will be told which batteries are needed. When buying a charger, ensure that it is compatible with your batteries. You can do this by checking the number printed on the side of your battery. Vape batteries must be high drain, high capacity - drill and torch batteries may fit your device, but they must NOT be used.  
You can view our batteries here, and our battery chargers here. 
DRIP TIPS
Drip tips or mouthpieces are connected to the tank cartage or cartomizer. Most drip tips are made from dering which is a heat resistant plastic. If you find your drip tips are getting too hot, you may need to replace it with one with a bigger opening. 
Or if you want to enhance your vaping experience, and get a richer flavour with more vapour production, then you may want to modify your e-cig with a new drip tip. 
Drip tips are usually very low cost. You will need to ensure that the drip tip you purchase is compatible with your device. 
Please note that not all vape tanks have a removable drip tip. If your vape tank does have one, it should be easy to remove by pulling straight up.
You can find our drip tips here. 
SPARE TANKS
Sometimes you will lose or break your e-cigarette tank, and - of course - you don't want to have to buy a whole new vape! Well, luckily you can sometimes get replacement tanks. 
However, only certain tanks can be replaced (those with a 510 thread), and some tanks may require more power than your device can provide. Sub-Ohm devices and Mouth-To-Lung devices will also have very different tanks - you will need to ensure that you are buying the right tank for your device, as they may not be compatible otherwise. 
You can find our tanks here. 
CASES AND SKINS
If you want to have a bit of fun and customise your e-cigarette, then you can buy cases and skins. These are an excellent way to personalise your vape and give it an interesting design or colour. You can find these online. Ensure that you buy one specifically made for your device otherwise it may not fit.