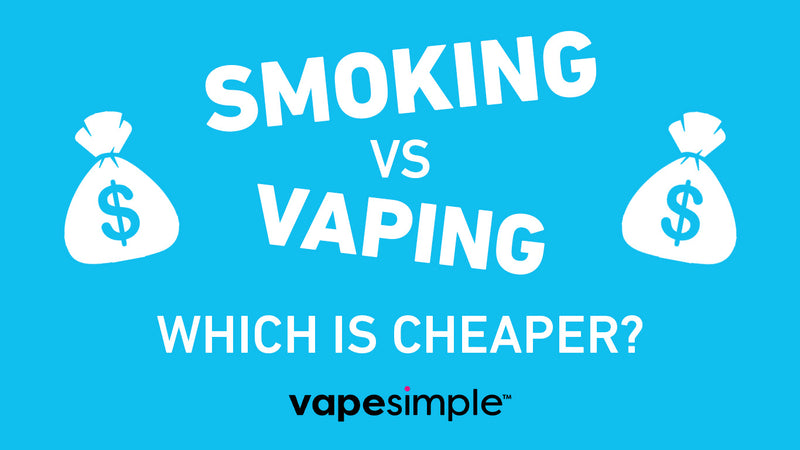 The cost of smoking vs vaping
Deadly health risks aside, the huge cost of smoking is a massive turn off for many people. Smokers spend immense amounts of money every year to fund their habit, and it can get too much. 
But when you look at vaping as an alternative, some e-cigarettes seem super expensive, and some bottles of e-liquid can get up to around £20. 
So is vaping actually any cheaper of a habit? Yes, it is. 
In this article, we will break down the costs of vaping vs smoking and compare them side-by-side to show how making the switch to a healthier lifestyle can also save you a lot of dough! 
How much does smoking cigarettes cost?
The cost of tobacco products has been going up for years, and it's still continuing to grow. Between 2000 and 2020, the average price for a pack of 20 cigarettes went from £3.67 up to £11.45. That's a 212% increase, with the last 5 years alone accounting for 26% of that. It's pretty clear that this figure is only going to keep rising. This is probably a good thing because it's helping to turn young people (and people in general) away from the dangers of smoking cigarettes. 
So, if you were to smoke a pack of 20 cigarettes every day, that's a whopping £4179 per year. 
If you smoke 10 cigarettes a day, that's £2089 per year. Even if you have as little as 5 cigarettes a day, it's still going to set you back £1045 each year. 
That's a phenomenal amount of money that could be spent on so many better things! Now, let's compare these numbers to the cost of vaping. 
How much does vaping cost?
With vaping, you have the first lump cost of the actual e-cigarette device, and then after this, you have the ongoing cost of replacement coils and e-liquids. 
The e-cigarette itself will usually cost somewhere between £20 and £45 for a good starter kit. Starter kits are ideal for ex-smokers, as opposed to the massive chunky vape devices that some vape enthusiasts use - some of these can cost up to £65. 
So, let's go in the middle to get a good average cost for your e-cigarette - £25. And let's assume that you replace this twice per year, as sometimes we do like to switch things up or treat ourselves to a fresh, new kit! So that's a total of £50 per year on the vape device.
Next, we have the replacement coils. Most people will need to replace their coils about once every 2 weeks, and the average coil costs £3.50. So, that's a total of £84 per year for coils. 
Lastly, we have the e-liquid! There are different e-liquid bottle sizes which will all have different prices (obviously the bigger the bottle the more expensive it will be). Most ex-smokers tend to go for 10ml liquids because these are already dosed with nicotine, whereas larger bottles are not. A 10ml will usually cost between £3 and £5. At Vape Simple, you can get any 4 flavours of the Simple Essentials 10ml e-liquids (which is a number 1 best-selling brand) for just £10. This set of 4 will last about a month for most vapers, so that's a total of £120 per year. 
The Simple Essentials e-liquids come in a huge variety of flavours and strengths so should suit all vapers. Plus, the varied strengths means that 1 bottle per week will be suitable no matter whether you smoked 5, 10, or 20 cigarettes per day.
So the total average cost of vaping is £254 per year for the 2 kits, the replacement coils, and the e-liquids.
It's safe to say that vaping is much cheaper than smoking! It is around 93% cheaper than smoking 20 cigarettes a day, 88% cheaper than smoking 10 cigarettes a day, and 76% cheaper than smoking 5 cigarettes a day. Not to mention all of the areas of your health that you'll save, too!